Attend the conference
& Conference fees
>> DOWNLOAD REGISTRATION FORM (.PDF)

REGISTRATION FEES
ALL ABOVE REGISTRATION FEES ARE REVENUE STAMP INCLUDED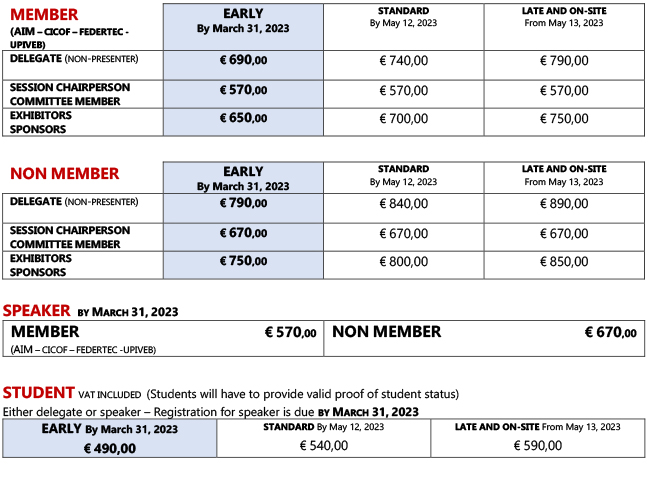 Conference Registration Fees include:
• ADMITTANCE TO TECHNICAL SESSIONS AND TO THE EXHIBITION
• SOCIAL EVENT ON MAY 30, 2023
• CONFERENCE ELECTRONIC PROCEEDINGS
• COFFEE BREAKS
• LUNCHES
For non-members (students excluded) the fee includes AIM Membership for the second half of 2023 and for the year 2024.

Payment and Remittance
• by bank transfer, to the order of Associazione Italiana di Metallurgia - AIM at "CREDITO EMILIANO SpA", Branch no. 052 Milano Sede - Via Andegari, 14 - 20121 Milano - Italy, account no. 010000480455 cod. ABI 03032- CAB 01600 - cin M
IBAN: IT33M0303201600010000480455, swift code BACRIT22MIL
The transfer order must specify the name of the participant and the reference "ECHT 2023".
A copy of the transfer order must be sent to AIM, together with the Registration Form.
• by credit card online

Social Programme
In order to give delegates the opportunity to meet informally and enjoy Genova's atmosphere, AIM organized a Social event in the early evening of May 30, 2023.